Hallie Cochran
Based in Fort Worth, Texas, Hallie is a multi-disciplined artist who specializes in photography and brand marketing.  She holds a BFA in Photography from the Savannah College of Art & Design. Hallie also has a strong passion for graphic design and video production. Her work has been in the following publications: Avid Golfer, Canadian Golf Magazine, D Magazine, Global Golf Post, Golf Digest, GolfWeek, Links Magazine, New England Golf Monthly, PGA Magazine, The Golf Channel, Texas Links, The Fort Worth Star Telegram, Sports Illustrated's Golf.com, among others.
Currently Hallie is the Creative Director at Teleos Marketing.
In her spare time, Hallie plays a lot of golf and enjoys competing in triathlons. She's obsessed with Chloe the Yorkie, musical theatre and macaroni and cheese. She's also engaged to Nathan Vasseur, so please keep up with their adventures here!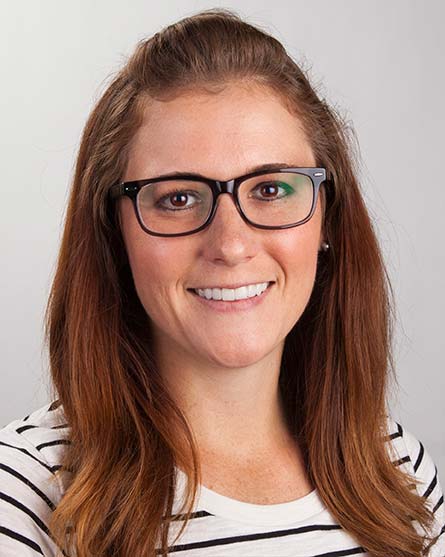 Contact Hallie
Website: www.hallieartdesign.com
Telephone: +1.936.435.4044
Email: halliecochran@gmail.com
Education
2004-2008: Savannah College of Art & Design Bachelor of Fine Arts in Photography
• 3.47 GPA
• SCAD Golf Team – four year athletic scholarship and honorary NAIA All-American
• Featured on the SCAD Photography website and YouTube Channel
• Featured in the 2008 Silverworks Photo Gallery
Employment History
2017: Teleos Marketing / Creative Manager
2014-2016: Ben Hogan Golf Equipment Company/Creative Services Manager 
• Developed brand standards, built all creative material and oversaw the procurement of all printing
• Shot and edited all product photography, prepared files for external media
• Shot and edited videos in-house as well as worked with outside production companies
• Oversaw the creative development of the website (www.BenHoganGolf.com) which had 2.5 million views in 2016 that included 348,000 unique visitors
• Developed the content and design for the monthly newsletter which had an open rate of 27% of the 66,000 subscribers
• Oversaw the creative design for the email drip campaigns which contained 20+ individual emails
• Oversaw and created content for various social media channels (Facebook, Instagram, Twitter & YouTube)
• Worked with the marketing staff and various department heads to provide all visual presentations containing the Company's digital marketing assets
• Assisted in the graphics application on all products and prepared files for vendors ranging from apparel to golf clubs and bags
• Designed and executed all internal communications to the staff and equity partners
• Worked with the Director of Sales in the execution of all sales support documents including an online portal for all outside sales representatives
• Worked with the creative team at the DesignShop and oversaw the creation and contents of a 30×50 foot booth at the 2015 and 2016 PGA Merchandise Show in Orlando, FL
2010-2014: Texas Golf Association / Digital & Social Media Coordinator
• Oversaw the transition from Blue Golf to TPP Online with over 5,000 members in the database
• Managed player registration and tournament set-up online
• Maintained and updated all forms of social media including Facebook & Twitter
• Responsible for updating and growing the Legends Junior Tour website
• Assisted in the creation of Get Ready, Play Ready, a multimedia initiative for the Texas Golf Association
• Created visual graphic solutions for the Association as well as the Foundation and their Allies
• Initiated the development and designed 50+ page custom books for all major championships
• In charge of writing and designing a monthly newsletter that is distributed to over 6,000 subscribers
• Developed and maintain all content for Association's YouTube Channels which have over 31,000 views
Freelance Work
Perry Golf / Video Editor
• Creates promotional videos highlighting golf trips around the world with provided images
The Bush Center Warrior Open / Photographer
• Photographed the Bush Foundation's annual Warrior Open since its inauguration in 2011. Images have been used by The Bush Center, the United States Golf Association, the Texas Golf Association and the Women's Texas Golf Association
iFratelli's Pizza / Photographer
• Provided social media support
• Photographed their entire menu with a main focus on their six signature pizzas
The First Tee of Greater Dallas / Graphic Designer & Photographer
• Designed The First Tee of Greater Dallas Golf Marathon logo which was used online, print publications, stationary and Nike Golf apparel
• Provided photography support for special events including the Golf Marathon and the George W. Bush and Annika Sorenstam Clinic & Exhibition
Leukemia & Lymphoma Society (Team In Training) / Graphic Designer/Photographer/Videographer
• Created a series of promotional videos highlighting the relationship that Team in Training has with the Leukemia & Lymphoma Society with a focus on the individual life stories of those affected by cancer
• Designed the membership shirts worn by the LLS Young Professionals group during outings and volunteering opportunities
The Women's Texas Golf Association / Graphic Designer & Videographer
• Created visual solutions for the WTGA media kit to be used during presentations for new clubs and potential sponsorship opportunities
• Worked closely with the Executive Director and board members to create a promotional video for the WTGA/LPGA Partner's Program
Awards & Honors
• Work has been published in Modern Luxury Dallas magazine
• Photographs of golf courses in Ireland used in prototype book for PerryGolf
• Images regularly showcased in DFW Links and Houston Links magazines
• Volunteered for the LPGA Tour of Champions and the PGA's Shell Houston Open
• Squashtography series featured on multiple design websites including TrendHunter.com