Title
Bright Star

Theatre
AT&T Performing Arts Center, Dallas, TX
Dates
June 12 – 24, 2018

Synopsis
From Grammy, Emmy and Academy Award­ winning Steve Martin and Grammy Award­ winning Edie Brickell comes BRIGHT STAR, the five-­time Tony­ nominated, new Broadway musical that The New York Times called "a shining achievement." Directed by Tony winner Walter Bobbie and inspired by a real event, this original musical tells a sweeping tale of love and redemption set against the rich backdrop of the American South in the 1920s and '40s. Propelled by an ensemble of onstage musicians and dancers, the story unfolds as a rich tapestry of deep emotion, beautiful melodies and powerfully moving performances.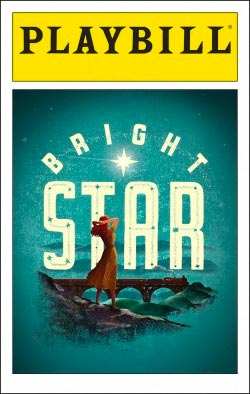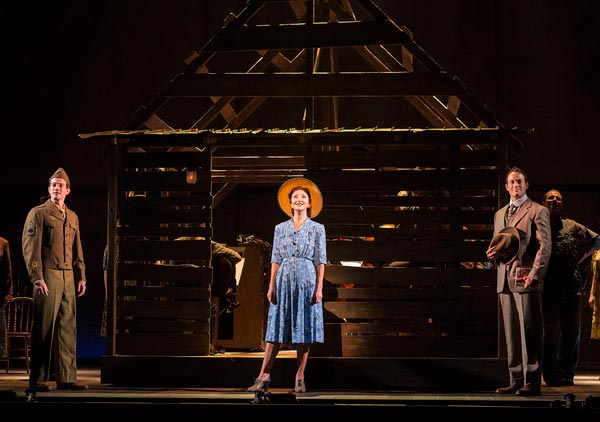 Main Cast
Daddy Cane – David Atkinson
Mayor Josiah Dobbs – Jeff Austin
Daryl Ames – Jeff Blumenkrantz
Mama Murphy – Allison Briner-Dardenne
Alice Murphy – Audrey Cardwell
Jimmy Ray Dobbs – Patrick Cummings
Lucy Grant – Kaitlyn Davidson
Billy Cane – Henry Gottfried
Margo Crawford – LianaI Hunt
Daddy Murphy – John Leslie Wolfe
Supporting Cast
Devin Archer
Kelly Baker
Hayden Clifton
Cody Davis
Robin De Lano
David Kirk Grant
Donna Louden
Kevin McMahon
Mary Page Nance
Alessa Neeck
Robert Pieranunzi
Michael Starr
Act I
If You Knew My Story
She's Gone
Bright Star
Way Back in the Day
Whoa, Mama
Firmer Hand/Do Right
A Man's Gotta Do
Asheville
What Could Be Better
I Can't Wait
Please, Don't Take Him
A Man's Gotta Do [Reprise]
Final Thoughts
Where to begin. I knew very little about this show prior to attending, other than the music and story came from Steve Martin. I love Steve Martin and grew up sharing my dad's love for banjo music. Side note, check out Daddy Played the Banjo, it's a beautiful song by Steve Martin and what an incredible musician he is.
I started listening the music about a week ago so that I'd be familiar with it. Admittingly, I played it in the background during work, so was unable to really listen to the lyrics, however I loved the general feel of the music. I love the bluegrass feel – banjos and fiddles are awesome. I didn't look up the plot and kept low expectations for the show since I hadn't heard much about it.
The show starts with a beautiful song, one that I've now listened to on repeat, called If You Knew My Story. Watch the video above to see that song performed at the 2016 Tony Awards. The lyrics are so beautiful and Audrey Cardwell, who plays the Alice Murphy has such a beautiful voice.
If you knew my story you'd have a hard time
Believing me, you'd think I was lying
Joy and sorrow never last
I'll die trying not to live in the past
If you knew my story
My heaven and my hell
If you knew my story
You'd have a good story to tell
Many times when you have extremely southern accents that are super nasally in shows can be fairly off-putting, however, I think the cast did a phenomenal job never crossing that line. Audrey Cardwell's performance was fantastic, her character has so much depth and the different in 'older Alice' and 'younger Alice' was a joy to watch.
The story is becomes a little predictable in the second act, however, I have no problems with that. Loosely based on a true story, the plot really kept me engaged the whole time. There's not a single song that I didn't enjoy and the choreography was very appropriate and clever. The set was simple, just a framed wooden home that continually rotated around the stage. The band stayed in the house, which was great to see them on stage the whole time.
I attending Bright Star with my friend Cat, another huge theatre buff. I haven't met too many other on my 'level' when it comes to musical theatre, but she's right there with me. We both enjoyed the show so much more than either of us imagined and left with our toes tapping and humming along to what we just listened to.
The show runs through July 24, so you might not be able to catch this performance, but it'd still recommend you listen to the album. I've linked my favorite songs worth listening to above. What an enjoyable show and one that we both agreed – if it ever comes back to DFW, we'll be there!
Learn more about Hallie's other favorite shows.