Title
Footloose

Theatre
Granbury Theatre House, Granbury, TX
Dates
Playing through July 15, 2018

Synopsis
When Ren and his mother move from Chicago to a small farming town, Ren is prepared for the inevitable adjustment period at his new high school. What he isn't prepared for are the rigorous local edicts, including a ban on dancing instituted by the local preacher, determined to exercise the control over the town's youth that he cannot command in his own home. When the reverend's rebellious daughter sets her sights on Ren, her roughneck boyfriend tries to sabotage Ren's reputation, with many of the locals eager to believe the worst about the new kid. The heartfelt story that emerges is of a father longing for the son he lost and of a young man aching for the father who walked out on him. To the rockin' rhythm of its Oscar and Tony-nominated top 40 score (the soundtrack album reached number one on the Billboard charts and has sold over 15 million copies!) and augmented with dynamic new songs for the stage musical, Footloose celebrates the wisdom of listening to young people, guiding them with a warm heart and an open mind.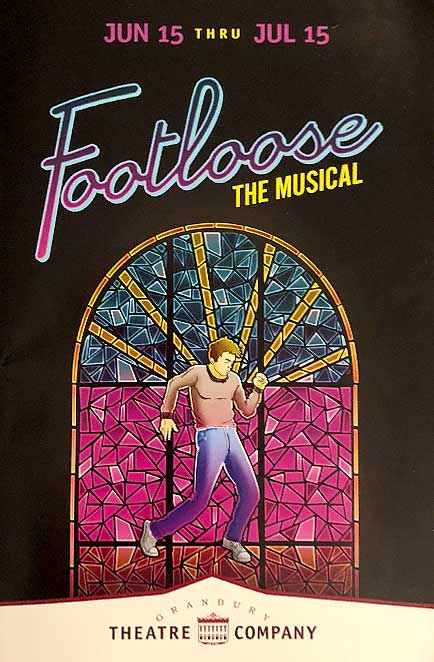 Ren McCormack – Evan Beggs
Ethel McCormack – Connie Ingram
Rev. Shaw Moore – Tim Herndon
Vi Moore – Bentleigh Nesbit
Ariel Moore – Ashlen Loskot
Lulu Warnicker – Gale Gilbert
Wes Warnicker – Darren Clark
Coach Roger Dunbar – Charles Mason
Eleanor Dunbar – Tori Townsend
Rusty – Tasia Jewel
Urleen – Delaney Wenger
Wendy Jo – Bailey Brewer
Chuck Cranston – Riley Henderson
Lyle – Zach Zagrocki
Principal Harry – Ryan Lynch
Travis – Logan Throckmorton
Willard Hewitt – Austin Bender
Jeter – Andrew Bullard
Bickle – Cedar Valdez
Garvin – Britton Melton
Betty Blast – Gale Gilbert
Cowboy Bob – Charles Mason
Cop – Ryan Lynch
Girl 1 – Jenna McWilliams
Girl 2 – Cheyenne Shreve
Dead Bobby – Jack Snyder
"Footloose/On Any Sunday" – Ren, Shaw, Ethel, Vi, Ariel, and Company
"The Girl Gets Around" – Chuck, Travis, Lyle, Ariel
"I Can't Stand Still" – Ren
"Somebody's Eyes" – Rusty, Urleen, Wendy Jo & Company
"Learning to Be Silent" – Vi, Ethel, Ariel
"Holding Out for a Hero" – Ariel, Rusty, Urleen, Wendy Jo, Company
"Somebody's Eyes (Reprise)" – Rusty, Urleen, Wendy Jo, Chuck, Lyle, Travis
"Heaven Help Me" – Shaw
"I'm Free/Heaven Help Me" – Ren, Shaw, and Company
"Entr'acte"
"Still Rockin'" – Cowboy Bob & Band
"Let's Make Believe We're In Love" – Irene & Band
"Let's Hear It for the Boy" – Rusty, Company
"Can You Find it in Your Heart" – Vi
"Mama Says" – Willard, Bickle, Garvin, Jeter, Ren
"Almost Paradise" – Ren, Ariel
"Dancing Is Not A Crime" – Ren
"I Confess" – Shaw
"Can You Find it in Your Heart? (Reprise)" – Shaw
"Footloose (Finale)" – Company
Final Thoughts
This was our first time to visit the Granbury Opera House and see a show produced by the Granbury Theatre Company. This theatre is so cute and right on the square in downtown Granbury. In 2012 the theatre underwent a $3.5 million renovation and it's gorgeous. It's small, which is nice because there really isn't a bad seat in the house. We bought our Saturday night tickets on Friday afternoon and were in the balcony for about $30 a ticket.
The cast is young and most are still in college. I've seen the professional traveling show of Footloose a few times, so know the music and know that it's obviously very dance-heavy. I think considering the cast is so young, they did a nice job. Can you tell that they aren't all dance majors? Yes. But does it still work? Yes.
Standouts in the cast include the star, Evan Beggs, who plays Ren McCormack. His dancing comes off as very natural. (Side note, Nathan and I have been taking dance lessons so we both have such an appreciation now for how complex dance is.) Evan's dancing reminded me of a 90's boy band, in a good way, which is funny because in his bio, he thanks *NSYNC, Michael Jackson and Britney Spears. The two cast members who, in my opinion, really stole the show were Tasia Jewel and Austin Bender. Tasia, who played Rusty, is going into her junior year at TCU and this girl is awesome. She's a natural dancer and moves with such ease and rhythm. Her voice is really strong and was such a pleasure to listen to. Never did she appear to be 'acting', rather, she came off as confident and natural. I'm looking forward to seeing other shows that she's in. Austin, who played the hillbilly goober Willard, seems to be a great character actor. He was sweet, endearing and funny. I was apprehensive at first, hearing his redneck accent was over the top in the beginning, but it worked. By the end of the show, I was rooting for him and excited to see his character develop throughout the show.
Overall, I'd recommend you taking a night, having dinner on the square, (we tried Christina's Bistro and really liked it), and enjoying the show. If you are a huge theatre buff, just know it's regional theatre – it's local, it's endearing and it's fun to see these young actors who are in the midst of fine tuning their craft.
Check out the Granbury cast on WFAA performing the finale here.
Just Because / Fun Facts
Because everyone loves a big finale for movie musicals, here's the final dance in the original 1984 movie Footloose starring Kevin Bacon.
Budget: $8,200,000
Opening Weekend (Feb 19, 1984): $8,556,935
Gross: $80,035,402
The dancing feet in the opening credit sequence contained many of the cast and crew. Over 150 different pairs of feet were shot. The dancer with the gold shoes was actually Kenny Loggins.
Loosely based on events that took place in the small, rural, and extremely religious farming town of Elmore City, Oklahoma in 1978. Dancing had been banned for nearly ninety years, until a group of high school teenagers challenged it.
Learn more about Hallie's other favorite shows.