Title
Hairspray

Theatre
AT&T Performing Arts Center, Dallas, TX
Dates
July 7 – 15, 2018

Synopsis
Hairspray is an American musical with music by Marc Shaiman, lyrics by Scott Wittman and Shaiman and a book by Mark O'Donnell and Thomas Meehan, based on John Waters's 1988 film of the same name (here's the original trailer). The songs include 1960s-style dance music and "downtown" rhythm and blues. In 1962 Baltimore, Maryland, plump teenager Tracy Turnblad's dream is to dance on The Corny Collins Show, a local TV dance program based on the real-life Buddy Deane Show. When Tracy wins a role on the show, she becomes a celebrity overnight, and meets a colorful group of characters, leading to social change as Tracy campaigns for the show's integration.
In 2003 it won eight Tony Awards, including one for Best Musical, out of 13 nominations. It ran for 2,642 performances, and closed on January 4, 2009. Hairspray has also had national tours, a West End production, and numerous foreign productions and was adapted as a 2007 musical film. The London production was nominated for a record-setting eleven Laurence Olivier Awards, winning four including Best New Musical.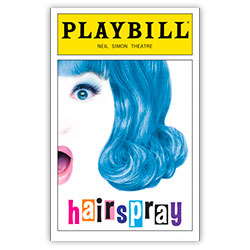 Act II
The Big Dollhouse
Good Morning Baltimore (Reprise)
You're Timeless to Me
You're Timeless to Me (Reprise)
Without Love
I Know Where I've Been
(It's) Hairspray
Cooties
You Can't Stop the Beat
Listen to the whole album on Spotify here.
Final Thoughts
Hairspray is exactly what I love about musicals. It's fun, the story is easy to follow, the music is catchy and enjoyable and the dancing is great. You leave the theatre humming along and tapping your toes. "You can't stop the beat" in this big and bold musical about one girl's inspiring dream to dance.
The sets are simple and the costumes are perfect. The characters are all endearing, except for Velma Von Tussle, who is the evil head of the television station. The story, which is based in the 60s, deals with racism and equal rights, which is obviously still a hot topic today. However, it's not preachy or in your face, it's very sincere and you are rooting for Tracy and Seaweed, who just want to dance on the Corny Collins Show.
Tracy's mom, both in stage and screen, has always been played by a man, which is honestly one of the best decisions the show has ever made. You quickly forget that and find yourself loving her when she's down, cheering for her after she gets a makeover at Mr. Pinky's Hefty Hideaway, and laughing so hard when her voice unexpectedly drops when she's proving a point.
Big Blonde and Beautiful is a fun, slower song, sang by Seaweed's mom, a voluptuous woman who is comfortable in her own skin. "Scoop me up a mess of that chocolate swirl, don't be stingy, I'm a growing girl. I offer big love with no apology. How can I deny the world the most of me? I am not afraid to throw my weight around, pound by pound by pound…"
Run And Tell That!, sang by Seaweed, is a super catchy hit on the racism he deals with. "I can't see why people look at me, and only see the color of my face. And then there's those that try to help, God knows but always have to put me in my place. But I won't ask you to be color blind 'cause if you pick the fruit then girl, you're sure to find… The blacker the berry, the sweeter the juice, I could say it ain't so, but darlin', what's the use? The darker the chocolate, the richer the taste and that's where it's at… now baby run and tell that!!"
You Can't Stop the Beat, the show's mega smash finale song reiterates the whole lesson from the show – love will always win in the end and it doesn't matter what that looks like… and just dance! "And you can't stop the motion of the ocean or the rain from above, you can try to stop the paradise we're dreaming of, but you cannot stop the rhythm of two hearts in love to stay… 'Cause you can't stop the beat, you can't stop the beat!!"
Hairspray isn't playing in Dallas anymore, however, if you haven't seen the movie, I'd highly recommend it. The cast is wonderful, and I really mean that – WONDERFUL. And unlike most movie musicals, it's not awkward and doesn't come off as if they tried to hard – it's just really fun.
Learn more about Hallie's other favorite shows.