Title
Priscilla, Queen of the Desert

Theatre
Uptown Players, Dallas, TX
Dates
July 13-29, 2018

Synopsis
Adapted from the 1994 Academy Award-winning film, Priscilla Queen of the Desert is the heartwarming, uplifting musical adventure of three friends, Tick, Bernadette and Adam (two drag queens and a transsexual), who take their show to the middle of the Australian Outback. Aboard a battered old bus called Priscilla, they search for love and friendship and end up finding more than they ever could have dreamed. With a hit parade of dance floor favorites including "It's Raining Men," "I Will Survive," "Hot Stuff," "Girls Just Wanna Have Fun," and "I Love The Nightlife," this wildly fresh and funny musical is a journey to the heart of FABULOUS! Get your glitter on and take the ride of your life with this hilarious and heartwarming Tony Award-winning Broadway musical.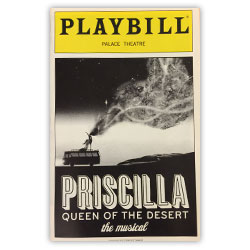 Act I
Overture
Downtown
I've Never Been to Me
What's Love Got to Do with It?
Don't Leave Me This Way
Venus
Go West
I Say a Little Prayer
I Love the NightlifeBoth Sides, Now
Follie! Delirio vano è questo! Sempre libera
Colour My World
I Will Survive
Act II
Thank God I'm a Country Boy
A Fine Romance
Shake Your Groove Thing
Pop Muzik
A Fine Romance (reprise)
Girls Just Wanna Have Fun
Hot Stuff
MacArthur Park
Boogie Wonderland
The Morning After
Go West (reprise)
Always on My Mind
Confide in Me
We Belong
Finally
Listen to the whole album on Spotify here.
Final Thoughts
I love this show. I first saw it with Mom and Grandma in New York with the original cast in 2011. We knew it was a fun, flamboyant show, but really didn't know anything else. Since that first show, I've made a point that anytime it came to town, I was there. Merlin and I saw it together in 2013 when it was apart of the Dallas Summer Musicals series. She loved it and vowed to make the same promise. Fast forward to just a few weeks ago and I got to take my several of my closest friends to see this amazing Tony Award winning musical. For the veterans – Merlin, Brian and me – we knew what to expect. For the rookies – Nathan, Matt and Cat – they had no idea. Everyone left laughing and filled with joy.
Where to start? The story… the cast… the music… the dancing… the costumes. All fabulous. The music is all songs you would already be familiar with – I Say a Little Prayer, Material Girl, I Will Survive, etc. So right off the bat, you are singing along. I can't say enough about the costumes. (Watch this video to see a behind the scenes look at the costumes). Just to give you an idea, their are 500 costumes worn in the national touring production of the show, which is enough to fill its own semi-trailer truck.
The story is so sweet and touching – you laugh, you cry, you get angry and you celebrate. The Uptown Players cast the show beautifully – Blake McIver (Adam/Felicia), Kelly Groves (Tick/Mitzi) and Jack Donahue (Bernadette) are incredibly talented. Each had beautiful voices and carried scenes on their own, as well as an ensemble.
"For me, it's definitely the most out and proud character I've played on stage, which is interesting and challenging," McIver said. "What I think the show does really well and makes it worth viewing in 2018 is that it shows our common humanity, that the most important thing about who you are as a person is how you treat people around you," he says. "Everyone needs to be reminded of that right now."
Laura Lites, Dana Harper and Beth Lipton played the three Divas, who come in and out of the show. When Harper sang, you could hear a pin drop. Everyone was listening.
I don't think this show comes around the DFW area enough. In fact, I feel like a lot of my favorite shows need to make more appearances, but that won't stop me from listening to the album on repeat on Spotify.
Learn more about Hallie's other favorite shows.